I make the birthday cards for my fellow co-worker's birthdays.  I started back in August last year, and am about 3/4 of the way through the birthdays.  So far I have used a Stampingbella on each of them.  If possible, I choose one that best depicts the girl whose birthday it is (we only have one male, and he's "one of the girls" anyway...LOL).  
These two cards were for the most recent birthdays.
For this one, I added Superbella's head (because she reminds me so much of the birthday girl) to Balloonabella's body.  I used a Mojo Madness sketch, and some cool teal and red-orange papers from Martha Stewart.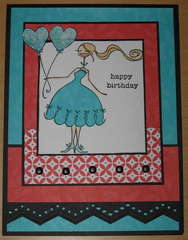 This one is Savvyshopabella in teal and brown (one of my fave combos).  The birthday girl for this one is a total shopping diva and loves Tiffany's (she's anxiously awaiting an engagement ring).  Thought this was perfect.  Those are Lucky in Love papers from GKD.